A Singapore mobile tailor company, A Gentleman's Tale unveiled its mobile showroom bus, a customized Mercedes Sprinter van that doubles up as an actual fitting room with its latest innovation, 3D body scanner.
The company started in 2015 and continuously taking the mobile tailoring services to the next level.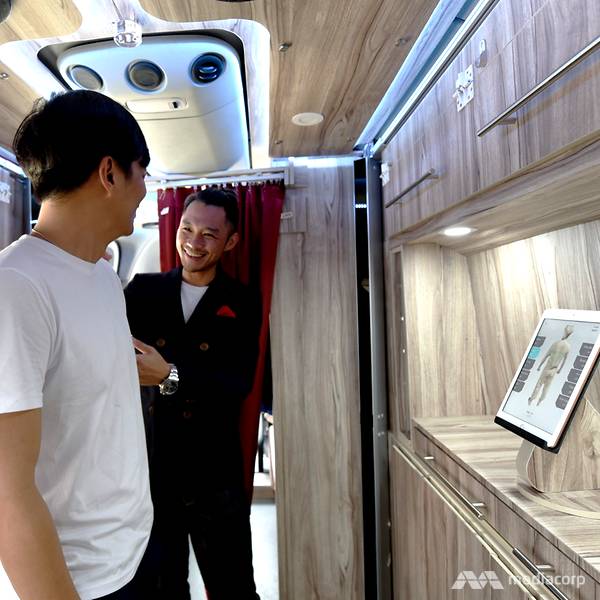 Photo from the channel news asia website
So how does it work?
Customers make an appointment and they will drive over to your place, where they will talk you through the choices of fabrics and the designs of the outfit. Then the 3D body scanning, located at the back of the mobile. Customers up to a height of 1.85m stand in the middle as they are scanned using infrared light from sensors located at the corners of the space. The scanner measures 127 points of the body, which is then translated into a computer rendering that can be instantly seen on an iPad. The entire process takes all of two seconds.
Co-Founder Kenneth Chia said that the accuracy is at 98 percent. But its based on wearing as little clothes as possible or body fitting clothes. Stripping to your undies will produce the best results – and don't worry, the space has curtains to provide privacy.
3D scanning helps to immediately see things invisible to the naked eye, they said, and is much faster and accurate. The technology also addresses the issue of being measured by the opposite sex.  According to Chia, a female client might not be comfortable measuring her crotch area by him if his partner, Lyn Chan is not around, so 3D scanning takes care of that.
Prices start at S$600 for an entry-level suit. For more expensive branded fabrics, prices start at S$1,000. And as of now, the prices are the same whether you request for a bus house call or you drop by their premises.
While it's fairly new – founders pointed out that their bus was the only one of its kind until one from China popped up last week – their high-tech approach to mobile tailoring is something they hope will eventually catch on.